The waste reduction projects aim to reduce waste through the reduction, re-use, sharing and recycling of products.
The group won a grant from Oxford Council to conduct a plastic bag survey in the area with a view to reducing their use in the locality. During the year it held 2 well attended bring and takes, including one in the Autumn which was part of LCWO's harvest celebration festival. It also organised a successful litter pick.
The Waste Reduction Group activities include
Education and Awareness raising
Distributing free cotton bags to local residents
Working with local shop holders to reduce use of plastic bags
Bring and Take – one person's junk is another person's treasure
Litter picks
Reusing old plastic bags to make arts and crafts, and new stronger bags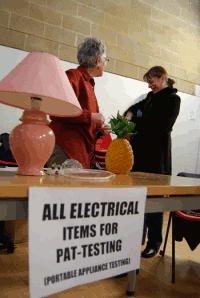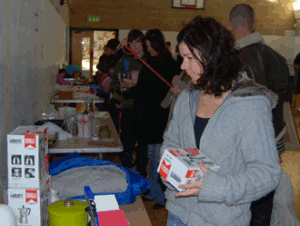 Bring and Take Event January 2009
It has recently received a small grant to distributing a sticker to every household in West Oxford which says 'Take me with you' which people can stick on their front door or car to remind them to take a shopping bag with them.
Further Reading
Reduce, re-use, recycle at our Bring and Take events We are in our seventh year of running our twice-yearly waste reduction event, the Bring and  Take, and it is still as popular as it was in the beginning.   The idea is simple:  Bring genuinely re-usable items, in good, clean condition and Take any items that you have a use for.  By